Sebille had thought it best to stay by Null when he slept. She wasn't exactly sure why... perhaps because he never really slept in this house, not unless she was with him when he fell asleep. She felt compelled to watch over him for that reason.

It wouldn't be right to leave him by himself.

This time she'd cheated, though. She'd taken a quick shower and changed her clothes, as well as grabbed a book to keep her company.

She didn't know what to expect from him when he was to wake up, and it made her a little nervous. She did, however, enjoy the feeling. She'd never liked everything to be so... foreseeable.

The weight shifted on the bed and she felt Null move.

He turned to his back his eyes open and exhaled through his nose.

"You're awake already..."
Well, duh. It was doubtful that he hadn't noticed. How did she always manage to state the obvious?

"...You could've slept longer, you know."

His expression stayed the same as he reached to her.

And she wondered what was going through his head this time.

Was he past the 'hands are bloody' metaphors and would he still be all unpredictable?

He sat up and there was still nothing in his eyes that indicated what he'd do next..

He didn't seem cold or empty as his hand reached Sebille's neck.
She wasn't all that worried.

Actually, she never was. She didn't think he would actually hurt her. He had no reason to.

!

Null?

She wanted to ask him what was up with him this time, but she also enjoyed being close and didn't want to break the comforting silence.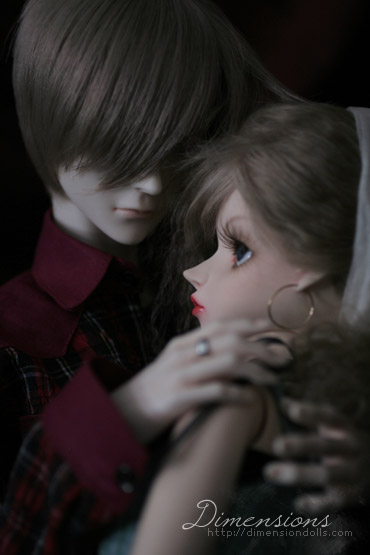 She separated slightly and looked up at him. He still hadn't changed his expression but she understood him a little better now though his actions.

Just as she was ready to speak...

...Null's cell phone rang.

He immediately turned his attention to it and the moment was broken.

Sebille turned away. She would always come in second, wouldn't she?

Null opened the phone and listened in silence for several minutes. Sebille couldn't hear what was said but she did hear a male voice speaking.

"Not now."
Was his only reply before he disconnected the call.

Sebille turned back to look at him (and his phone) in disbelief. (Why was she always this surprised?).

"Why not now? Do you have something better to do?"

She took the phone from him.

And put it away as they both changed their postures as if it was a mutual consent to switch to a more comfortable position.

"I do..."

She sighed as his hands wrapped around her waist and she was pulled against his broad chest.

"This all makes you so... crabby. Why do you do it?"

She'd asked the question but she wasn't expecting an answer. And she knew she wouldn't be getting one even if she was.

" ..."