The weather was warm but somehow chilly. The air had the smell of autumn in it.

Sebille loved it. Her favourite season here again. Not too hot, nor cold, just the way she liked it. She just hoped she wouldn't be so busy with work so that she could enjoy it fully. She wasn't that fond of the season that would follow, though.


Autumn always passed too fast.

Now... where was he?

Sitting all the way out there? Urgh! She was wearing heels, too (not that she had much choice with that).

She'd stopped trying to surprise him. Not matter how much she tried to not be there, he always knew she was.

"Interrupting your alone time... again. Hope you don't mind because I will anyway."

"I finally have a few days off work."

She had been so busy at work, she'd hardly been able to come home to sleep the past two days.

"Enjoyng the fresh air, hmm?"

" ..."

"The outfit? Okay, I admit it... not the most practical one for coming out here."

"Looking at me now, I doubt you'd believe I used to be one hell of a tomboy. Didn't even own a pair of heels 'till a few years back."

"Anyway, I just came to tell you that I have today off... and probably tomorrow, too. I'll be in my room... or somewhere else. But inside anyway."

"So, come and get me if you feel like it."

He'd better. She wanted to relax and strangely Null's company was the best for that. Ironic, wasn't it.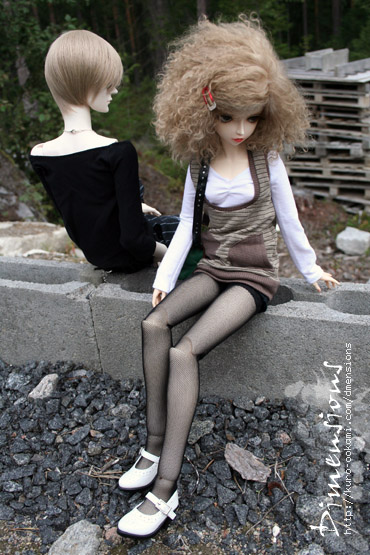 She'd love to actually come out here again... she'd just need to pick herself a different, more comfortable, outfit. And possibly buy new shoes.

"Hmmh?"

"You know... a simple 'don't go' would've saved me from the trouble of turning around" She smiled a little.

He could seriously use to learn to speak his mind. Though, the way he did things intigued and attracted her.

She wondered... how long would he be able to be patient. No matter how distanced from people he was... he was still a man.

It drove her almost mad how he always touched her appropriately and never attempted anything. She wanted to know how long it'd last but she wasn't sure if she, herself, had the patience to wait for it.

"Has anyone ever told you...."

His eyes had started to wander some time ago, though. She secretly enjoyed every second of it.

"That besides the fact that you're generally scary --no offence. ... ... You're also hot as hell?"

Yes, he was, and it was slowly getting to her.

" . . ."
She laughed: "I didn't think so."

"It kind of feels like spring here..."

Metaphorically speaking, of course, since it was kind of breezy.

"...Spring?"

"Nothing. It's a girl thing."

And she was cheerful again.